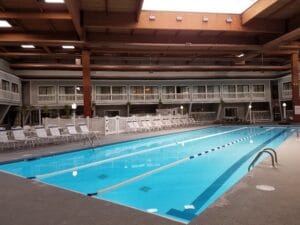 Indoor Pool, Kiddie Pool and Spa:
Mon-Weds: 9am-10pm, Thurs: 9am-9pm, Fri: 10am-10pm, Sat & Sun: 9am-10pm
Outdoor Pools (seasonal):
9am to dusk
NO LIFEGUARD ON DUTY – NO SWIMMING ALONE
•  Please abide by all posted signs and rules.

•  Please shower before entering either pool or whirlpool spa.

•  No glass of any kind is allowed in the pool areas.

•  No food or snacks allowed at indoor pool.

•  No Diving!

•  Children under 16 may not use the Whirlpool Spa.

•  Children under 16 must be accompanied by an

adult while in the pool area.

•  Children under 3 are allowed in the large Indoor pool with swim diapers. 

Swim diapers are available for purchase at the Recreation Center.

•  The kiddie pool is adjacent to the large pool for children ages 1-6

•  No coolers allowed in pool areas

•  No flotation devices – life jackets or water wings only

•  No outside alcohol permitted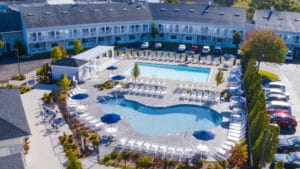 Warning:
The Whirlpool is a hazard to children as their body size makes them quickly susceptible to dehydration and heat stroke. There is no beneficial aspect of the Whirlpool for young children. They are however, subjected to serious health risks.
Prolonged exposure to pool chemicals may cause skin irritations.