Hours: 8:00 AM – 9:00 PM daily.
The "Hub" of activities and information at the Resort. Most scheduled on-site activities are held here.  We offer complimentary use of our tennis, pickleball, racquetball and basketball courts.  Some activities and equipment rental require a nominal fee.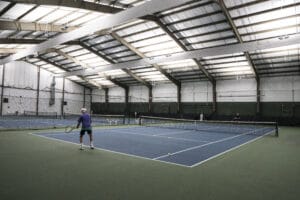 Please contact Ext. 646 for court time reservations.
•  3 Indoor Tennis/Pickleball & 2 Racquetball Courts

•  Basketball (Indoor)

•  Ping Pong, Air Hockey and Billiard Tables

•  Arcade & Game Room with Prize Hub

•  Creative Corners: an arts and crafts space

•  Scheduled Activities for children and adults

•  Local Visitor Info: brochures, maps and menus

•  Gift Shop with souvenirs and toiletries

•  Massage by appointment

•  Books, Board Games and Puzzles to borrow

•  Lounge Area with TV

•  Soda and Snack Machines

•  Bike Shed: Secured storage for bicycles